2016 Employee Insured Benefits Benchmarking Study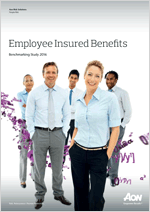 Aon's research presents a unique insight into the benefits provided by organisations and how they compare with others in the Australian marketplace.

This report provides a deep dive analysis into data and information provided by our clients to help them understand how their employee benefits compare and key considerations to ensure their relevance and sustainability.
The survey covered all primary areas of Australian insured employee benefits and key factors influencing the shape of benefit programs.
Since the inaugural report was launched in 2012, we have seen shifts in social dynamics and other broader factors (many global) that are directly influencing the structure, operation and sustainability of employee benefit programs.
How do you ensure relevance and sustainability in your employee benefits program?
Our animated video gives a brief overview of the key considerations when reviewing or establishing an employee benefits program.