Women and super: Bridging the superannuation gender gap in Australia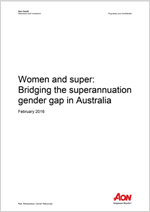 Research shows that women retire with almost half the amount of money in their super than men. Women save $102,000 on average for their golden years, compared with $197,000 for men1 and 90% of women will retire without adequate savings to support a comfortable lifestyle2.

Various factors may play a part in the superannuation gender gap in Australia including pay inequality, fewer women in senior roles, different career choices and generational factors.

Women face considerable challenges when saving money for their retirement. There is no one-size-fits-all solution, but a multifaceted approach from employers, the government and female super members can give women greater control and flexibility over their retirement future.
This white paper will analyse the current state of the superannuation landscape in Australia, the challenges women face when saving for retirement and the potential solutions available to them.
1 Workplace Gender Equality Agency – Australia's gender equality scorecard November 2015
2 ANZ Women's Report