Shift, On-Call and Overtime Allowances Report Australia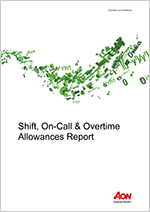 Accelerated rates of globalisation coupled with continued advancements in technology and rising consumer demands have resulted in significant changes to traditional working hours and employment patterns.

Organisations are under increasing pressure to meet the expectations of an instant-gratification economy, with many firms moving towards 24-hour operations in order to match the prices and speed of delivery offered by competitors. The '9 to 5' working day is no longer compatible with many organisations' operating environments and has resulted in an increasing proportion of organisations' employees now working under shift arrangements, on an overtime basis and/or on-call.

Considering the unique physical, emotional and/or personal implications of these conditions, organisations need to be considering how best to appropriately compensate their employees for working non-standard hours.

Aon is pleased to present the 2017 Shift, Overtime and On-Call Policy and Practices Report. This study was undertaken in response to client demand for market information on policies and practices concerning these types of working arrangements and was conducted via an online questionnaire sent to all New Zealand Aon survey contributors in August 2017. A total of 13 organisations of different sizes and industries participated in the survey. This report looks at the overall trends in shift, overtime and on-call policies and practices and where data samples have allowed, the data has been analysed by industry group as well as role type.