Customised Market Surveys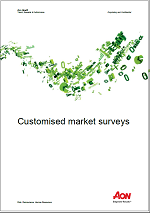 Customised Market Surveys are reports containing market intelligence on unique roles or highly specific HR/remuneration policy and practice information. The information contained in these reports is currently not available within Aon range of remuneration surveys and HR policy and practice reports.

For example, our consultants can conduct research on behalf of your organisation into:
market remuneration rates for a translator role that is not regularly reported in Aon comprehensive range of remuneration reports
market remuneration rates for particular roles within a specific geographical region only eg Wollongong, NSW, Australia or Christchurch, North Island, New Zealand
the minimum thresholds (floors) and caps (ceilings) related to commission payments for a selected group of sales roles within organisations offering similar products and services to your organisation
the 'soft' benefits (ie benefits outside of the salary package) provided to certain groups of employees within a group of competitor organisations.
Aon formulates the results presented within Customised Market Surveys on market data collected from a selected group of organisations. The format of the results is tailored to meet your needs.
Gain the market intelligence you need
Customised Market Surveys allow you to gain the exact market intelligence you need to make market-related pay decisions and to develop competitive HR/Remuneration policies. They are beneficial in a variety of circumstances, such as:
presenting market rates for unique job roles are a vital part of remuneration management, ensuring that pay decisions are made in a fair, consistent and equitable manner for all roles, not just the ones found in 'off-the-shelf' remuneration reports
assisting with forecasting remuneration costs for new company initiatives. For example, if your organisation is planning to offer a new product/service line or establish a new office in a different location
presenting intelligence on specific areas of HR/Remuneration policy and practice can assist with assessing the competitiveness of current arrangements within your organisation. They provide crucial evidence required for formulating a case to shift your policies and practice to a more market competitive position.
Contact
Aon
for more information.