AIIA Remuneration Report for the Information Technology and Telecommunications Industries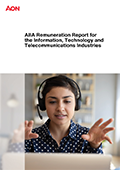 The AIIA Remuneration Report for the Information Technology and Telecommunications Industries was established in 1988 and covers a broad range of technical and non-technical roles in the information and communications technology sector.

Results are based on the salaries and benefits information of 91,047 individual employees from 608 organisations with comprehensive remuneration and benefits tables published for over 585 separate positions.
This remuneration report is released biannually in March and August.

If your organisation is interested in participating in this survey, please contact us for further information.
Keeping up with remuneration trends and industry movements is an ongoing exercise. Therefore, the bi-annual General Industry Remuneration Report (Australia) is a must-read for HR professionals. Providing accurate, reliable and comprehensive information on the Australian pay market, it is the largest General Industry remuneration report in Australia.
Wide range of industries

626
organisations

92,696
employees

582
key positions
Complete Remuneration Intelligence
All Aon surveys are designed to help decision-makers set pay with confidence across numerous rewards elements. Key remuneration details available include:
Base Salary
Superannuation
Benefits (cars, insurance, other benefits etc.)
Fixed Remuneration
Target and Actual Variable Pay broken down into Incentive/Commission/Bonus
Target Annual Remuneration
Allowances for overtime, on-call/standby, shift
Hundreds of Jobs Available
The General Industry Remuneration Report is focused on delivering a quality dataset representative of the broader market as a whole. Data for our comprehensive set of core roles is sourced from a wide variety of industries, including:
Hi-Tech, Telecommunications and Media
Banking and Financial Services
FMCG and Consumer Products
Engineering, Construction and Resources
Life Sciences
Property
Key Survey Features
When you participate in an Aon Remuneration Report, you gain access to numerous standard and custom reporting tools, all of which are updated with new data upon each release either annually or bi-annually, as well as a host of additional benefits. Features include:
Online, 24/7 access to survey results through Aon's renowned, market-leading Data Centre. The functionality allows for: filtering of survey data, combining market filters (such as revenue and industry); unlimited peer cuts; ageing data; reports showing your position to market; non-standard percentile calculations; custom/combined positions; position descriptions and bulk data.
Comprehensive coverage, with data on all major elements of the remuneration package; salary, benefits and both short and long-term incentives, as well as historical coverage of actual salary movements (with reports from the past five years available) and forecasts for the coming year.
Invitation to participate in other qualitative reports that provide access to quantitative and qualitative information, supporting the review and design of total reward programs.
The option to submit data once a year at a time that suits you, with a single data capture document, as well as the support of a dedicated remuneration analyst, who can assist with submitting your data and interpreting report results.
Invitation to remuneration forum that allows for robust discussions and the critical evaluation of data findings and market trends, while networking with industry peers.